Plein Air Painting at Chicago's Washington Square Park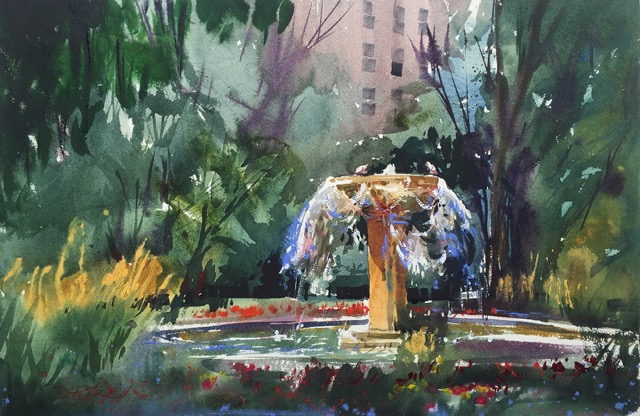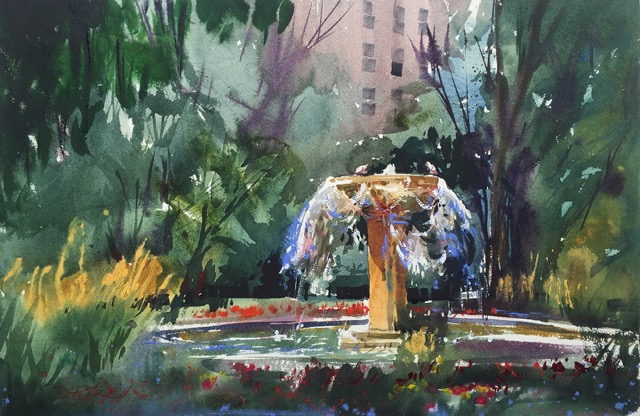 Plein Air Painting at Chicago's Washington Square Park
Start slowly. Paint joyfully
In other words, taking the time to see the scene in a remarkable way, mixed with our body of knowledge and a dash of imagination (also unique to all) is the way I like to start Plein Air painting. For when we do, it's our imagination that takes that scene so remarkably seen that it forces the artist in us to see it remarkably, feel it joyfully, and paint it beautifully.
We will meet at Chicago's Washington Square Park on Wednesday from 1:00-4:00 Classes will include basic artistic concepts pertaining to your medium of choice. Also covered will be discussions on Values, Design, Composition, Simplification, Transparency, Basic Color Theory, Emphasis will be on discovery of intent, (why paint this scene in the first place) value study of lights, mid-tone and darks to tell the best story, growing skill and confidence building, specific techniques will be addressed to help each students make positive decisions and work through to complete paintings, all with much fun and no fear.
This class is weather dependent, meaning, we want to provide the best chance to succeed, so schedules will be adjusted accordingly for optimum weather conditions. If rain is forecasted, we'll gather in the basement studio of the Palette and Chisel.
Wednesday, May 15, 2019 will be our first scheduled class. We'll meet at the central fountain. Bring your supplies and prepare to learn and paint. Five Sessions are planned, over the span of six or seven weeks. (We'll plan on some rain days, Vacation days, etc. If you care to pay for the entire class it's $250, or if you want to pay for each class, its $50 per class. Just let me know via email.
The first hour will be discussion and demos, generally in oil and or watercolor. Along with maybe a folding chair, sun hat and a light jacket, bring your creative, fun spirit for adventure. Also bring whatever supplies you normally use to make art. Bring some extra canvas, and paper too, you'll make a lot of art, sketches and little studies. Hour 2-3 will be painting and individual instructions, followed by group feedback and lessons learned. Class ends around 4:00 pm.
Painting in the Park Week 1 - Wednesday May 15th 1:00-4:00 pm - Focus will be on Intent, design and composition.
We'll be using the underpainting phase to experiment and quickly adjust our design shapes. We'll show and tell about how these shapes of light, mid tones and darks adds value for constructing a successful painting. We'll also explore opacity vs. transparency. When to keep areas transparent and when best to use opaque paint. We'll also tackle the tough questions of How do we use what's before us to increase our chances for having a successful painting? In essence, how do we edit the scene successfully?
Week 2 - Wednesday May 22nd 1:00-4:00 pm - Focus will be on Design and Values - Capturing lights story. Understanding that values are the foundation that all the other details of a painting are built upon.
Week 3 - Wednesday May 29th 1:00-4:00 pm - Focus will be on Values and Color - we'll explore simplifying shadow shapes and discover how unifying the sameness of shadows creates a strength to your painting that is so exciting, it also allows the light shapes to really shine.
Week 4 - Wednesday June 5th 1:00-4:00 pm - Focus will be on Color and Temperature - We will dive into the wonderful world of color harmony, color value, and saturation. As we discover the effects of light and distance, we'll make correct color choices to give your art depth, light and life. We'll explore how a good temperature plan simplifies pigment decisions so that we can mix color quickly and correctly. We will study how we can use a less saturated color, influenced by temperature, to make a more harmonious painting.
We'll skip one week (June 12) and meet up on June 19th
Week 5 - Wednesday June 19th 1:00-4:00 pm - Focus will be on Atmosphere and Edges - using the previous four weeks of lessons, we'll discuss what tools and techniques we can use to give our paintings qualities of depth in the 3rd dimension. We'll also study glazes to solidify and harmonize your art.
Each class will provide demos, discussion and plenty of time to explore each weeks lessons learned. Washington Square Park is the perfect place where the city comes alive, where human architecture meets nature's architecture, where busy people meet serenity and where lights play joyfully with shadows.
If this set of classes sounds like a good fit for you, I'd love it if you could join us. As in all workshops, space is limited.